Workshop Descriptions and Schedule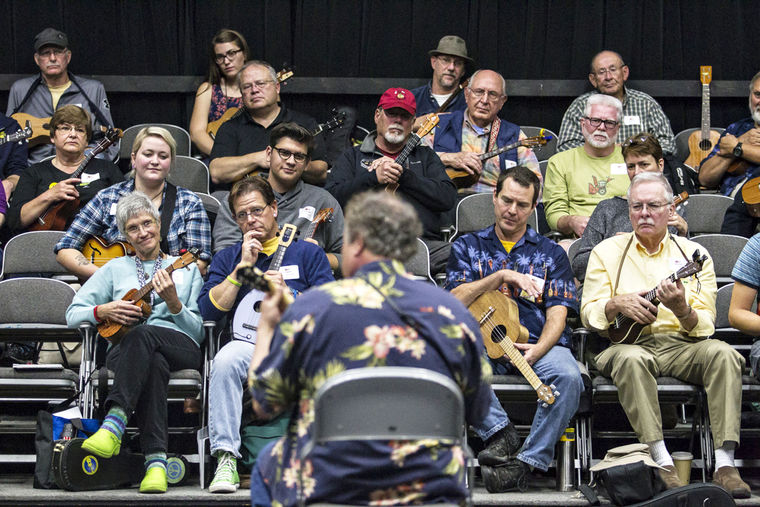 Learn for the Best! Midwest Uke & Harmonica Camp is proud to feature the largest staff of top-quality
Teaching Artists at any such event.
Midwest Uke Camp 2018 Workshop Schedule (subject to change)
Full Workshop Descriptions Available Here
Full Camp Schedule Available Here

UKULELE LEVEL DESCRIPTIONS
BEGINNER – This level of has been playing for up to 6 months and has learned 3 – 4 chords but hesitates in between chord changes to move the fingers to the next location.
CONFIDENT BEGINNER – This player knows a handful of chords and can move from one chord to another without pausing. Has trouble with barre chords, and has developed a strum or two or a basic finger pattern for picking.
INTERMEDIATE – This player can hold a steady rhythm, and is competent with a variety of basic chords (for example: A, Am, Bb, B7, C, C7, D, Dm, E7, Em, G, and G7. Understands simple chord progressions (such as I, IV, V chords), can sing and strum at the same time, and learns chords to simple tunes fairly quickly.
ADVANCED INTERMEDIATE – This player can hear I, IV, and V chords, has mastered some chord inversions, knows there is life above the fifth fret, and has been there with barre or 4-fingered moveable chords. Plays lead and backup easily with others and keeps steady rhythm.
(BF) "Baritone Friendly" Classes – Classes labeled as such can be enjoyed by baritone players. You should know the baritone equivalent of of the standard ukulele chords used in the classes as they may not be provided on handouts. If a class isn't listed as BF, you may be able to use an ukulele capo.
How to choose and get the most out of your ukulele workshops.
HARMONICA LEVEL DESCRIPTIONS
BEGINNER – For those taking their first steps on the instrument. You have a hard time making clear single notes and are not sure how far to move your mouth up and down the harp in order to get the next hole. Trying to master simple melodies such as "Oh Susanna".
INTERMEDIATE – You can generally play single notes clearly. know simple melodies, and are somewhat proficient in note bending. You have experimented with blues "cross harp", but need work on improvising.
Recommended Harmonicas (with Elderly stock numbers): Use a harmonica in the key of C such as: Hohner Blues Band sku: HO1501 $5.95, Suzuki Folkmaster sku: S1072 $11.95, Hohner Big River sku: HO590 $30.50, Hohner Marine Band sku: HO1896 $44.99. We will have these or their equivalents at our camp store.
FRIDAY
3:00
Beginner: Ukulele From Scratch: Beginning Ukulele (Swedberg)
Confident Beginner: Fingerpicking 101 (Fink)
Intermediate: Intro to Swing (Ross)
Advanced Intermediate: Accompanying and Dynamics (Chin) (BF)
Harmonica: Harmonica 101 (Lil' Rev)
Baritone: Getting into Baritone & Guitar-tuned Tenor Guitar (Marxer) (BF)
All Levels: Ukulele Bootcamp (Chee)
4:30
Beginner: Play Ukulele by Ear I: Learning to Listen (D'Ville)
Confident Beginner: Beyond C, Am, F,  G/G7 (Sigh)
Intermediate: Jazz Blues (Maisel)
Intermediate: Get in the Groove (Vox) (BF)
Advanced Intermediate: Flamenco Sevillanas (Ward)
Harmonica: Advanced Beginner Harmonica (Wilson)
Baritone: Plectrum Styles for the Baritone (Weltman) (BF)
All Levels: Music Theory (Youngman)
SATURDAY
9:15
Beginner: Strumtastic (Lil' Rev) (BF)
Confident Beginner: Hawaiian Music Essentials (Chin)
Intermediate: Fingerpicking 201 (Fink)
Advanced Intermediate: Introduction to Line Cliches (Vox)
Harmonica: Coming Out of the Harmonica Closet (Weltman)
Baritone: Applying the Baritone (Wilson) (BF)
All Levels: Ukulele Bootcamp (Chee)
All Levels: Beginning Meditations for Ukulele (Ward)
10:45
Beginner: Closed Chord Confidence for Beginners (Marxer)
Confident Beginner:  Ukulele by Ear II: Chord Progressions and the Circle of Fifths (D'Ville)
Confident Beginner: Intro to Tab & Notation (Sigh)
Intermediate: You're Already Moving (Ross)
Advanced Intermediate: Who Needs a Chord Book? (Maisel)
Harmonica: Note Bending Demystified (Wilson)
All Levels: Fearless: Conquering Stage Fright (Swedberg) (BF)
All Levels: It's All About That Bass (Youngman)
2:00
Beginner: Doo-Wop 'Til You Drop (Maisel)
Confident Beginner: Mastering the C Scale (Vox)
Intermediate: Tame Your Low G (Chin)
Intermediate: Once in a Blue Moon (Ross)
Advanced Intermediate: Songs of Romance from the American Songbook (Marxer)
Harmonica: Approaching Jewish/Gypsy Klezmer Harmonica (Weltman)
Baritone: Standard to Baritone and Back (Swedberg) (BF)
All Levels : Non-Intimidating Intro to Music Theory on the 'Ukulele (Chee)
All Levels: How to Sing While You Strum (Sigh)
3:30
Beginner: Strumming by Ear (D'Ville)
Confident Beginner: Irish Songs, Melody, and Rhythm (Lil' Rev)
Confident Beginner: How to Transpose (Sigh)
Intermediate: Clawhammer 101 (Fink)
Advanced Intermediate: Chord Chemistry (Ward)
Harmonica: Harmonica & Ukulele Strum (Wilson) (BF)
All Levels: Harmony Singing (Youngman)
SUNDAY
9:15
Beginner: "500 Miles" in Every Key (Swedberg)
Confident Beginner: Intros, Endings, Turnarounds, and Vamps (Lil' Rev)
Intermediate: Clawhammer 201 (Fink)
Intermediate: Shaping Your Sound (Chee)
Advanced Intermediate: Bye Bye Blues (Marxer)
Harmonica: A Pentatonic Approach for the Harmonica (Weltman)
All Levels : Intro to Mouth Trumpet (Youngman)

10:45
Beginner: Picking By Ear (D'Ville)
Confident Beginner: Beginning Chord Melody (Maisel)
Intermediate: Diggin' Into the Blues (Chin)
Harmonica: Harmonica Maintenance and Repair (Wilson)
All Levels: How to Read and Write Chord Charts (Ross) (BF)
All Levels: Rhythmic Structures and Time Signatures (Youngman)