Workshop Descriptions and Schedule

Here is a general listing of potential workshops we may offer along with the workshop listings from our 2017 camp. This will give you a good idea of the breadth of instruction we offer. (Last year, we offered 54 different workshops and we will have at least that many this time around!) Midwest Uke and Harmonica Camp 3 workshops and schedule
will be posted in Spring 2018.

Arpeggio Meditations
Flamenco, Hot Flamenco
Windmill Strum
Tremolo Techniques
Travis Picking
Blues Uke
Blame it on the Bossa Nova
Ukulele by Ear
Three Chord Magic
Fab Beatles Songs
Magical Mystery Chords
Neil Diamond Hits by Ear
Jersey Boys by Ear
Rockabilly
Beginning Harmonica
Plectrum Tuning for the Tenor Ukulele
Plectrum Tuning for the Baritone Ukulele
Applying the Baritone Uke
How to Make a Song "Big"
Making Sense of the Fretboard
Left-Hand Playing Techniques
Becoming a Multi-Tasker/Performance Techniques
Introduction to Line Cliches
Fun and Games
Do-Wacka-Do-It!
Easy Pickings
Strum-tastic
Harmonica 101
Irish Song, Melody, and Rhythm Styles for Ukulele
Ukulele 101: Beginning Ukulele
Cocktail Party Favorites
C/Am/F/G Make them Swing!
Harmonica for the Complete Beginner
Harmonica Care and Maintenence
Wrong Key? Transpose!
EZ Tab
Plectrum Tuning Styles for the Baritone Ukulele
Boot Camp 101

Clawhammer Ukulele
Who Needs a Chord Book?
Harmonica Note Bending Demystified
It's All About That Bass
Music Theory: Roman Numerals and What They Mean
Music Theory: Major/Minor, Suspended, and 7 chords
Vocal Technique: How to Sing While You Strum
How to Practice
Expand Your Chord Repertoire Beyond C, Am, F and G
Chord Confidence for Beginners
Getting Into Baritone Uke and Guitar-Tuned Tenor Guitar
Closed Chord Confidence for Intermediate Players
Songs of Romance from the American Songbook
Play Misty for Me

Bye Bye Blues
Fingerpicking 101
Fingerpicking 201
Clawhammer 101
Clawhammer 201
Practice Techniques
Songs in Minor Keys
Rhythm Uke or Banjo-Uke for Old Time Stringband Music
Two Ukes Are Better Than One
And many more . . .
CLICK HERE FOR THE COMPLETE WORKSHOP SCHEDULE WITH DESCRIPTIONS.
A BASIC SCHEDULE IS POSTED BELOW.

NOTE: THESE ARE THE 2017 LISTINGS TO GIVE YOU AN IDEA OF THE SCHEDULE. ACTUAL 2018 SCHEDULE WILL BE AVAILABLE SPRING 2018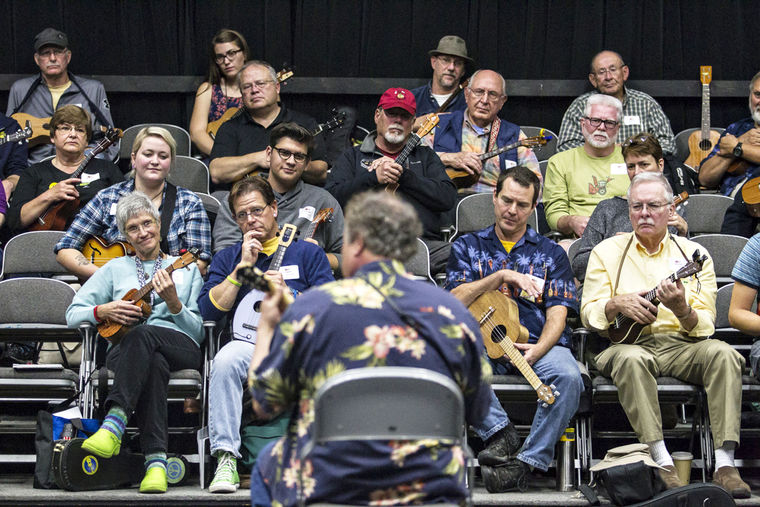 At Midwest Uke Camp, we have a full slate of ukulele and harmonica classes for beginning to advanced levels in
 ukulele and harmonica, taught by some of the finest instructors in the country.
Class Levels
UKULELE LEVEL DESCRIPTIONS
(BF) "Baritone Friendly" Classes – Classes labeled as such can be enjoyed by baritone players. You should know the baritone equivalent of of the standard ukulele chords used in the classes as they may not be provided on handouts. If a class isn't listed as BF, you may be able to use an ukulele capo.
BEGINNER – This level of has been playing for up to 6 months and has learned 3 – 4 chords but hesitates in between chord changes to move the fingers to the next location.
CONFIDENT BEGINNER – This player knows a handful of chords and can move from one chord to another without pausing. Has trouble with barre chords, and has developed a strum or two or a basic finger pattern for picking.
INTERMEDIATE – This player can hold a steady rhythm, and is competent with a variety of basic chords (for example: A, Am, Bb, B7, C, C7, D, Dm, E7, Em, G, and G7. Understands simple chord progressions (such as I, IV, V chords), can sing and strum at the same time, and learns chords to simple tunes fairly quickly.
ADVANCED INTERMEDIATE – This player can hear I, IV, and V chords, has mastered some chord inversions, knows there is life above the fifth fret, and has been there with barre or 4-fingered moveable chords. Plays lead and backup easily with others and keeps steady rhythm.
HARMONICA LEVEL DESCRIPTIONS
BEGINNER –  For those taking their first steps on the instrument. You have a hard time making clear single notes and are not sure how far to move your mouth up and down the harp in order to get the next hole. Trying to master simple melodies such as "Oh Susanna".
INTERMEDIATE – You can generally play single notes clearly. know simple melodies, and are somewhat proficient in note bending. You have experimented with blues "cross harp", but need work on improvising.
Recommended Harmonicas (with Elderly stock numbers): Hohner Blues Band sku: HO1501 $5.95, Suzuki Folkmaster sku: S1072 $11.95, Hohner Big River sku: HO590 $30.50, Hohner Marine Band sku: HO1896 $44.99. We will have these or their equivalents at our camp store.
How to choose and get the most out of your ukulele workshops.
MIDWEST UKE CAMP 2017 WORKSHOPS
(subject to change)
2018 Workshop Schedule available in Spring 2018
CLICK HERE

FOR THE COMPLETE WORKSHOP SCHEDULE WITH DESCRIPTIONS.
FRIDAY, JUNE 23
3:00
Beginner: Ukulele 101: Beginning Ukulele (Fuchs)
Confident Beginner: Cocktail Party Favorites (Marxer)
Intermediate: C/Am/F/G Make them Swing! (Ross)
Harmonica: Harmonica for the Complete Beginner (Lil' Rev)
Bonus Room 1: Painless Transposing (Manke) (BF)
Bonus Room 2: Plectrum Tuning Styles for the Baritone Ukulele (Weltman) (BF)
4:30
Beginner: Boot Camp 101 (Chee)
Confident Beginner: Beatles Jam (Beloff)
Intermediate: Clawhammer Ukulele (Fink)
Advanced Intermediate: Who Needs a Chord Book? (Maisel)
Harmonica: Note Bending Demystified (Wilson)
Bonus Room 1: It's All About That Bass (Youngman)
Bonus Room 2: Hawaiian Kani Ka Pila I (Espaniola)
SATURDAY, JUNE 24
9:15
Beginner: Beginners Unite (Marxer)
Confident Beginner: Six Triplet Strokes (Lil' Rev)
Intermediate: Take It! Single Note Soloing the Easy Way (Ross)
Advanced Intermediate: Song Arranging (Maisel)
Harmonica: Beatles for Harmonica (Wilson)
Bonus Room 1: Major to Minor (Hassenger) (BF)
Bonus Room 2: Hapa Haole Songs (Pasant)
10:45
Beginner:  Beginning Fingerpicking (Manke) (BF)
Confident Beginner: Rockabilly for the Ukulele "Uke-a-billy" (Fuchs)
Intermediate: Boot Camp 201 (Chee)
Advanced Intermediate: Songwriting for Songwriters (Beloff) (BF)
Harmonica: Sonny Boy Williamson (Wilson)
Bonus Room 1: Harmony Singing (Youngman)
Bonus Room 2: Hawaiian Strumming I: Olapa, Classic, Modern (Espaniola)
2:00
Beginner: The Notes Are in Your Left Hand, The Music is in Your Right: Strumming Patterns (Youngman) (BF)
Confident Beginner: Intros, Endings, Turnarounds, and Vamps (Lil' Rev) (BF)
Intermediate: Life After the Third Fret (Maisel)
Advanced Intermediate: Intro to Soloing (Chee)
Harmonica: Harmonica Playing By Positions (Weltman)
Bonus Room 1: Practice Techniques (Fink) (BF)
Bonus Room 2: Hawaiian Kani Ka Pila II (Espaniola)
3:30
Beginner: When Do I Change Chords? Ear Training 101 (Fink) (BF)
Confident Beginner: Hey! It's About Ragtime! (Manke) (BF)
Intermediate: Three Note Chords – All You Need to Get that Jazzy/Bluesy Sound (Ross)
Advanced Intermediate: Chorded Melody I (Marxer)
Harmonica: Approaching Jazz & Swing on the Diatonic Harmonica (Weltman)
Bonus Room 1: Very Bari Jam (Beloff) (BF)
Bonus Room 2: A Funky Uke Time (Fuchs)

SUNDAY
9:15
Beginner: Doo-Wop 'Til You Drop (Maisel)
Confident Beginner: The Blues and Boogie of Leadbelly (Lil' Rev)
Intermediate: Paper-Free! Ear Training 201 (Fink) (BF)
Advanced Intermediate: Chorded Melody II (Marxer)
Harmonica: A Pentatonic Approach for the Harmonica (Weltman)
Bonus Room 1: Music Theory for the Ukulele (Youngman)
Bonus Room 2: Hawaiian Strumming II: Swing, Chalangalang, IZ Strum (Espaniola) (BF)
10:45
Beginner: Writing Song Parodies (Manke)
Confident Beginnner: Group Play (Chee)
Advanced Intermediate: At the Ritz (Beloff)
Harmonica: Harmonica Maintenance and Repair (Wilson)
Bonus Room 1: How to Read and Write Chord Charts (Ross) (BF)
Bonus Room 2: Zen Bandcamp (Fuchs) (BF)